I found this recipe on
pinterest
for
chocolate chunk pecan cookies
this week and could not wait to try making them. Oh my god these cookies are incredible and SO ridiculously easy to make. You will only need one bowl to mix everything (and of course a measuring cup, teaspoon, spoon, spatula and baking sheets) so it makes clean up very easy. They took me 15 minutes to mix up and I only baked them for 10 minutes so in under 30 minutes I made my favorite cookies to date. Lately all the chocolate chip cookie recipes I try and sort of lackluster so as you can tell I'm a little excited. I also do really love pecans so that might be adding to this enthusiasm.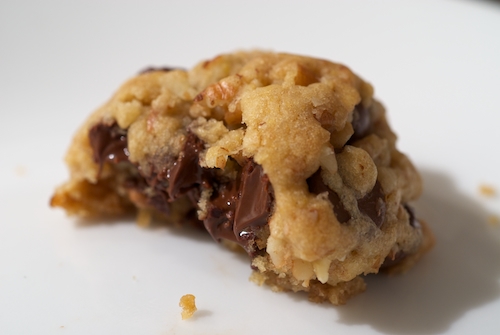 I didn't alter the recipe at all -
click here
for the full recipe. Make sure you toast the pecans to bring out the flavor - it makes a big difference!
Bake or Break
is definitely going to be my go to place for recipes now.
Token crappy cell phone picture. Mine aren't as pretty as Bake or Break's but they do taste incredible.
Enjoy your weekend! It's feeling like fall here in Boston which is my favorite season in New England so I'm excited to take a few walks and just relax.